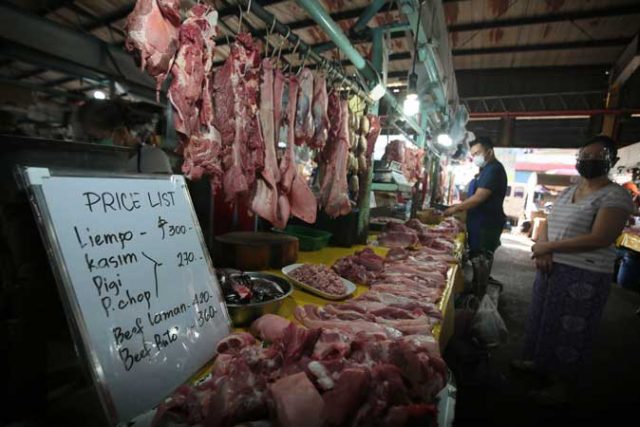 THE GOVERNMENT'S move to adjust tariffs on pork is effective as prices have stabilized in the past few weeks, an Agriculture department official said. 
"The prevailing retail price of imported frozen pork in kasim and pigue, this is about P250 (per kilo), and for liempo, it is P290 (per kilo), and this has been stable for the past weeks," Department of Agriculture (DA) Undersecretary William C. Medrano said at a Tariff Commission hearing on Friday.  
Mr. Medrano was referring to the prevailing retail prices of imported pork found in selected Metro Manila-based markets from April 21 to June 18. 
"We see that this is the result of the implementation of EO (Executive Order) 133 and EO 134, and it's really helping in stabilizing the supply of pork and reducing the prices of pork in the market, and therefore it is contributing to minimizing inflation," he added. 
EO 133 raised the minimum access volume (MAV) allocation for pork imports to 254,210 metric tons (MT) from 54,210 MT previously. Meanwhile, EO 134 adjusted the tariff rates on pork imports for one year. Both orders were signed last month. 
Under EO 134, in-quota pork imports will be charged 10% tariff in the first three months and out-quota pork imports at 20% in the first three months. The tariffs will increase to 15% for in-quota and 25% for out-quota pork imports in the succeeding months. 
Once the prescribed one-year period under the order lapses, the tariff rates for in-quota and out-quota pork imports will return to 30% and 40%, respectively. 
Samahang Industriya ng Agrikultura Chairman Rosendo O. So, who was present at the hearing, said increasing tariff rates on prime cuts of pork will help local hog raisers be competitive "against the highly depressed landed price of imported pork." 
"Lowering tariffs have not redounded to lower retail price of pork. Consumers have never benefited from any and all tariff reductions," he said.  
Meanwhile, Philippine Chamber of Food Manufacturers, Inc. Corporate Secretary Rita Imelda B. Palabyab noted there has been no improvement in local pork supply, which was affected by the African Swine Fever. 
"Given that pork supply is still very much affected by ASF, it does not seem timely at this point to move for the increase in tariff when imported pork is very much needed to meet the requirements of our consumers as well as of our processors," she said. — A.Y. Yang